China counts for no less than a quarter of the world's manufacturing added value and handles a quarter of the world's sea freight containers. The Coronavirus crisis which started at the end of 2019 beginning of 2020 in Wuhan, naturally affects supplies for the whole world economy, in particular, sea freight to Europe. A round-up of the situation and the mechanisms in operation, at the beginning of March and a few shipping tips for affected companies.
The supplies in question
Company supplies from China have been extremely disrupted:
Quarantine measures taken by the Chinese government in February and the disruptions in Chinese factories have prolonged and aggravated the absences that usually follow the Chinese New Year, which was on 25th January. Within a few weeks, the 'world's factory' had come almost completely to a standstill. The statistics show it clearly: China saw exports plummet by 17.2% for the year over the two months of January-February, and imports were slightly down too (4%).
With the country's driving restrictions, merchandise could not be transported to ports, and ships were leaving China with a fill rate of 10 to 30% if they were leaving at all (see below).
E-commerce fluxes are also affected by the suspension of imports from certain operators like the French Post office.
European companies who export to China had to first deal with a demand shock, in France that particularly affected the luxury, wines and spirits sectors.
Now sales are impacted by the breaks in the supply chain for imports. Although companies have been trying to diversify when it comes to supplies over the last few years, it's rare to find an industry that doesn't source at least one component from China. Once stocks are exhausted and without alternative supplies, there's a threat of technical unemployment which for most isn't simply a question of a few weeks. The automobile, textile and electronics sectors are particularly vulnerable.
Latest News

– getting hold of masks in France

Although the European Commission has not set up new sanitation regulations for Chinese products since the epidemic has been detected, France has taken measures to requisition protective masks and placed restrictions on exports.
Although a regression of the epidemic has now been recorded in China, so the country has slowly started heading back to work since the end of February, the disruptive effects will continue throughout the international logistics chain as the epidemic itself reaches the Middle-East and Europe.
How all sea freight is impacted by Covid-19:
Observing the effects of the coronavirus health crisis on the transport industry is a perfect example of the butterfly effect, or how external phenomena can destabilise a whole system by a chain effect.
Quarantine measures have led to a suspension of port activity and loading/unloading of containers in China. The result: ships are stuck in ports due to a lack of personnel and merchandise. At the beginning of March, the ports of Shenzhen, Ningbo, Qingdao et Tianji are still affected. However, operations to Shanghai, Hong-Kong, Dalian and Fuzhou have been able to start-up again. Nonetheless, the accumulated delays are still being felt and the situation isn't expected to improve before mid-March.
The port of Shanghai represents 100,000 TEU a day, that's the equivalent of a years traffic through Fos-Sur-Mer in 10 days!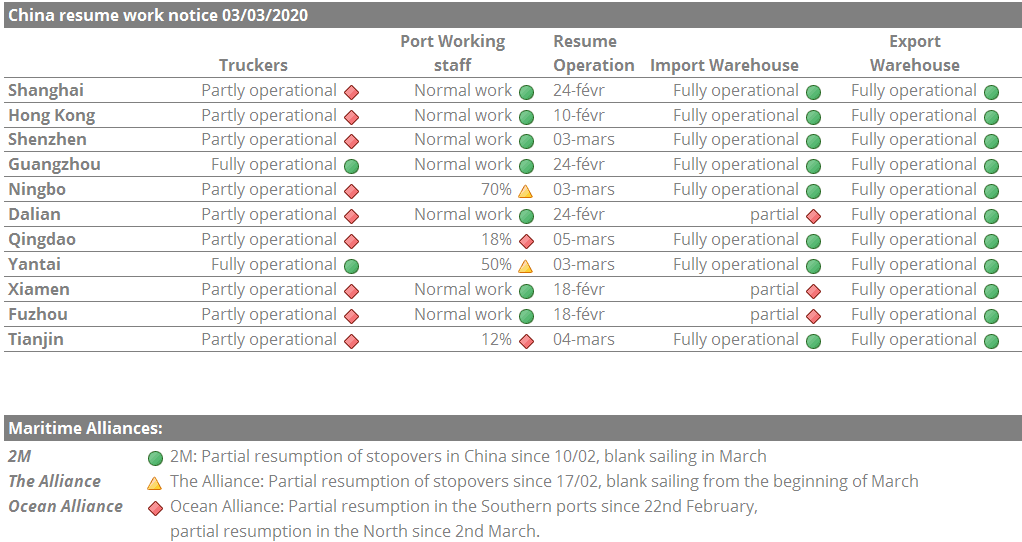 Sea freight companies continue to experience stopover cancellations during sea journeys. In February, 45% of stopovers in China were cancelled or delayed. For March, we're predicting 27% of stopovers being cancelled or put back taking into account "blank-sailing." The direct consequence is an equivalent drop in stopovers in Europe, with a 4- to 5-week delay. Lines towards the Middle-East are also affected, as they are part of the rotation of ships between Europe and Asia. We estimate that transport capacity will be reduced to just 8%in Europe in March (compared to 42% in February). However, at the beginning of March, CMA CGM, the world's 4th largest shipowner, announced that they planned to fill their entire fleet once more leaving China at the end of March, while remaining vigilant in terms of consequences of the evolution of the Covid-19 epidemic in Europe.
During the last four weeks, container traffic leaving China has shrunk by almost half according to the European Commission. Chinese ports are saturated with import containers that have just been delivered, which leads to extra demurrage charges for the containers stuck in Chinese ports, excepting where ship-owners have allocated additional "free time" due to exceptional circumstances. Another issue: a shortage of empty containers for export from Europe and in the rest of the world. According to the International chamber of shipping, coronavirus has taken 350,00 containers out of the market. The situation is particularly difficult for reefer containers, affecting for example shipping of fruit from Latin Americ to Europe.
In the first place, the closing down of Chinese factories impacted the import of minerals, metals, coal, accentuating the seasonal lows and plunging Sea freight

Sea freight cost indicators.

 We expect prices to spike once production reaches normal levels again, in order to catch-up on the accumulated delay.
As a consequence, loaders should anticipate accrued delays and most likely price increases.
What are the alternatives?
It some cases, it's possible to relieve the delay using air freight. Air operations with China have also been affected, so the situation puts pressure on pricing. Since the end of January, air companies have suspended or reduced their service to China and Italy. In addition to cargo flights, reductions in and cancellations of passenger flights have drastically reduced the import capacity of freight A large part of air freight makes use of the luggage holds in passenger aeroplanes. The rates for air freight are likely to skyrocket with the standardisation of production and air freight.
It's hard to predict the medium-term consequences, but they are likely to be significant. The coronavirus could cost the freight industry between 63 and 113 billion dollars in 2020, equivalent to a 20% decrease in passenger traffic, according to the International Air Transport Association (IATA). The consequences of this for cargo activity have not yet been estimated. We fear a series of bankruptcies among the most fragile companies.
The 

China/Europe

rail has completely come to a halt, as the lines cross Russia and they have closed off their borders with China.
There isn't really an alternative  

route 

that can be used given the distances and restrictions.
How can we cope?
It's hard to know how things will develop, but right now import/export companies can prepare by actioning the following:
Plan for delays with merchandise travelling from China.
Check with suppliers so you know when orders are likely to be ready.
If merchandise needs to be transported by lorry between provinces, ensure the merchandise is ready before establishing an effective transit plan.
For the most urgent shipments, book in advance, indicating the availability date of the merchandise.
Plan to ship L

CL rather and FCL

in the short term.
For less urgent suppliers, delay shipping and wait for conditions to improve.
For urgent and sensitive freight, using air freight may be a good way to get your supplies.
In the medium-term, try to  

diversify your supplies

.
---