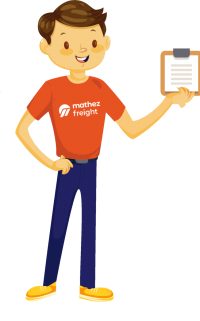 Quick Tips for Logistics Professionals
An EORI number is mandatory for every economic operator that carries out import and/or exports to/from the European Union. 
Each EORI number is unique and valid in all European Union Member States.  
We recommend you get your EORI number in advance to avoid your goods or  your customers' good getting stuck at the border and costing you extra money. 
To get an EORI number now, contact us. 
What is an EORI number?
EORI stands for "Economic Operator Registration and Identification". It is a unique European community ID number, attributed to economic operators as an identification number for their customs procedures. An EORI number is mandatory to carry out import and export within the European union and is valid in every European Member State.
The EORI number is used by customs authorities for many purposes: data, statistics, security, etc.
Do you need an EORI number for your EU imports and/or exports within the UE?
As soon as a company carries out customs activities in the European Union on its behalf, (for example, a release of goods for consumption), an EORI number is required to clear customs. An EORI number is compulsory for all companies, regardless of their place of establishment. This means both European and non-European companies need an EORI number to trade and carry out customs formalities in Europe. 
In short: yes, everyone needs an EORI number to import and/or export goods within Europe. An EORI number is valid in all EU Member States and is unique to each economic operator. 
If you are a freight forwarder, please advise your customers that they will need an EORI number in order to clear their products at the European border. We recommend you register with your EORI number before attempting customs clearance operations to avoid any issues. Just contact us. 
If you are shipping goods to a customer who is not established as a company (a private individual), an exception might apply as this request is considered as "irregular". Other exceptions exist and may apply depending on the situation. Not sure? Just contact us. 
Where can you find your EORI number (if you have one)?
To check your EORI number, you may consult the European Union Portal. If you cannot find it, that may indicate that you do not have an EORI number yet.
The EORI number format differs depending on the country where it was issued.
For example, if you are registered in the French SIRET database (which means you already exported goods in France or you opened your EORI there), you can work it out from your French SIREN: the EORI number is usually composed of the country code at the beginning, followed by 10 to 15 numbers. 
For instance, the EORI format for French companies is: FR+14 digits of the French SIRET (Sytème Informatique pour le Répertoire des Entreprises sur le Territoire, the French business register).
French companies can find their EORI number here.
Please note that an EORI number is different to a VAT number. For any VAT related queries, please contact our sister company Easytax. 
How to apply for an EORI number in Europe ?
In any case, to obtain an EORI number, you must send a request to the customs authorities. The application format will be different depending on the country.
If your company is established within the European union, EORI numbers are issued by the customs authorities of the country your company is established in.

For instance, you can request an EORI number from the SOPRANO-EORI portal for France. To do this, you will need a customs representative.

If your company is not established in the European Union, you must register and request an EORI number from the customs authorities of the first Member State you import your goods to. Following this, you can import to France with a German EORI number, if your first country of import was Germany.
A company can only have one EORI number that will be valid in every EU Member State.
As an AEO-Full certified custom broker in France, Mathez Freight can help you to obtain an EORI number swiftly.