Restructuring in colour! As the French group's management changes, so a new graphic identity has been created for the updated brand architecture. As transport needs are often accompanied by complex customs or VAT issues, the new brands that make up the MATHEZ FREIGHT & COMPLIANCE group clarify their roles when it comes helping professionals.
The group looks to the future
MATHEZ TRANSPORTS INTERNATIONAUX was created in Nice in 1950 by Raoul Mathez. In 1986, Pierre Mathez, Marc Fagnen and Brigitte Mathez took over the management.
Relying on autonomous, creative and reactive collaborators to the needs of international companies, the family company has developed new skills and various brands at the crossroads of regulation and organization of transport linked to international trade. Today, the group has 6 companies, 16 agencies, 162 employees and above all more than 20 different professions which rely on a network of partners present in 195 countries.
MATHEZ TRANSPORTS INTERNATIONAUX, MATHEZ INTRACOM, MATHEZ CONSEIL FORMATION: professionals know and appreciate these various companies or brands, but how can they know that ON SITE, MMCI, MMCI ART LOGISTICS or EASYTAX belong to the same group without a coherent set of brands and logos? As the group prepares to write a new page in its history, its leaders wanted to affirm its unity and values through a new graphic identity.
Within a group that cultivates its family values, respect for each other and for the word given, pride in a job well done, courtesy and honor are not empty words. In a world sometimes guided by the sole concern of short-term profitability, we are part of a long-term project and are proud to entrust this corporate culture to those who have made it grow and will make it prosper.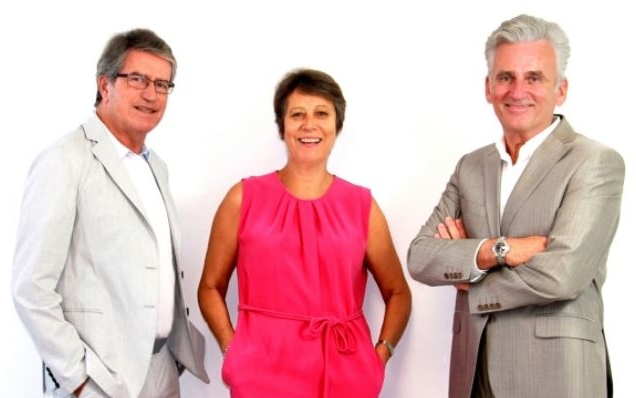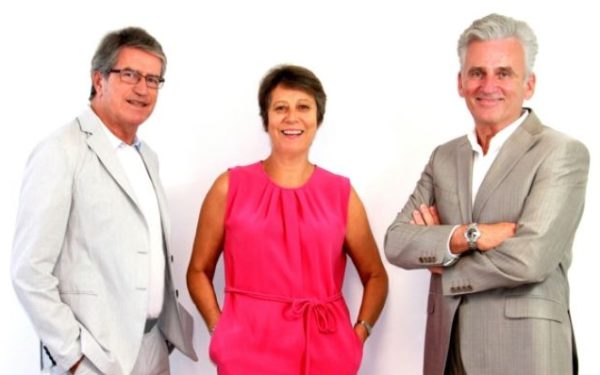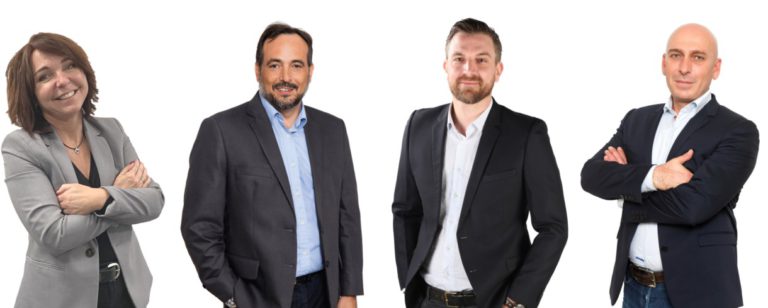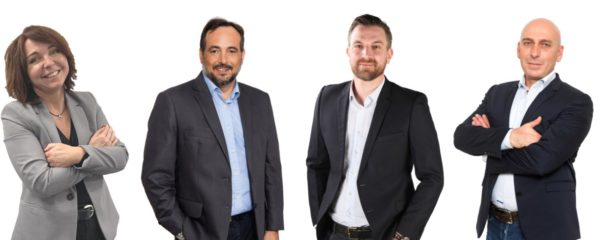 The Mathez family is transfering control of the group to its managers
When planning for the future, the directors Pierre Mathez, Brigitte Mathez and Marc Fagnen have refused buyback proposals several times because they wish to maintain the group's independence and unique company culture.
In an extremely rare move, rather than carry out a major financial transaction, they are now choosing to handover management to selected managers who have contributed to the group's growth in recent years.
Frederic Mercier and Alexandre Hiernaux will manage the freight activities.
Nicolas D'Asta will head up the compliance activites.
Working for both clusters, Marion Sabatier will take over the administrative and financial management of all the group's companies.
These 4 people are surrounded by executive "intrapreneurs" leading trained, skilled and willing employees, who ensure that the company's values are maintained and who still today, place human beings and their intelligence at the centre of their concerns.
A new brand strategy
Strongly attached to the group's values, the old and new leaders met during 2020 to reaffirm the company's unity and identity by clarifying its offer and structure.
Two clusters, MATHEZ FREIGHT and MATHEZ COMPLIANCE, have now been created within the group, which will now be known as MATHEZ FREIGHT & COMPLIANCE .
A new visual identity now covers several brands as a visual affirmation of their unity.

Two complementary clusters for perfect logistical and regulatory control
International trade stakeholders are increasingly confronted with complex regulations and systems, The MATHEZ FREIGHT & COMPLIANCE group's two clusters are combining their skills to offer these entities the best model in terms of logistics, regulatory and tax issues.
The MATHEZ FREIGHT cluster (since this is its new name), ensures the organisation of air and sea transport throughout France and 195 other countries, using the largest network of independent agents in the world. The business mainly works with small and medium sized companies, and as a "master loader" on behalf of non IATA colleagues. MATHEZ FREIGHT. is equipped with several highly specialised business units:
exhibition logistics

and largescale events (

MATHEZ ONSITE LOGISTICS

),

transporting artwork (MATHEZ ART LOGISTICS ),
customs engineering, administrative and operational solutions for all types of ship, pleasure boat and luxury car

,

the aerospace industry

,

aromas and fragrances

,

… It's a long list because the group's employees like to build

tailor-made solutions

!

The MATHEZ COMPLIANCE cluster, recognised for its expertise in international VAT and customs, offers three services:
MATHEZ INTRACOM the first third party VAT declarant in France, carries out EC sales lists, EC purchase lists and INTRASATS on behalf of companies.
MATHEZ FORMATION offers training in VAT, customs and tax.
EASYTAX offers a VAT representation service via a one-stop shop in more than 30 countries.
The MATHEZ FREIGHT & COMPLIANCE group is well placed to honour its family heritage and continue the company's development in France and abroad.